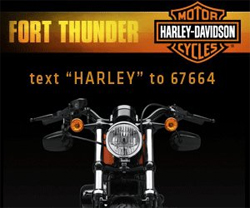 Brand:
Fort Thunder Harley-Davidson & Central Texas Harley-Davidson
Agency:
7 Media Group
Campaign/program name:
Integrated Mobile Marketing
Duration:
January 2010 to present
Objective:
The Fort Thunder Harley-Davidson and Central Texas Harley-Davidson dealerships wanted to create an integrated Mobile Marketing strategy to expand the brand of Harley-Davidson to a new demographic, maintain conversations with loyal consumers and create hyper awareness of the specials and events involved at each dealership.

Through the use of mobile marketing with SMS, the dealerships were able to provide special deals, stronger loyalty and deeper conversations with both new customers and long-term customers. Additionally, through the use of text messaging, through 7 Media Group of Oklahoma City, the dealerships were able to boost sales and increase visits to each store through VIP text memberships. Through this unique strategy, The Harley-Davidson dealerships were able to extend their reach to the largest demographic possible and build a robust database of loyal and engaged customers.
Strategy:
The goal for 7 Media Group's services for The Harley-Davidson dealerships in 2010 was to grow their mobile & social element. As the social space becomes more and more relevant to all businesses, The Fort Thunder and Central Texas dealerships needed to reach outside of their usual demographic and reward long-standing customers. With a unique and integrated mobile and social strategy, The Harley-Davidson dealerships were able to extend their offerings to a broader target audience, expand their brand image to more people and bring in a new business through special deals, Bike Night events and VIP mobile club memberships.
Call to action:
The Harley-Davidson dealerships were able to integrate mobile marketing and a social campaign by inviting new and existing customers to opt-in to a mobile text messaging club. Customers were able to receive updates via text messaging about special sales, events and members-only deals. Both dealerships were granted access to site that tracked their success with the 7 Media Group mobile marketing, were able to rack return on investment numbers and were able to view the results of each message.
Results:
The two Harley-Davidson dealerships were able to track significant growth through mobile marketing in their social media efforts and mobile club. Most importantly, they saw a tremendous response almost immediately via mobile text messaging on sales and walk-in visitors to the stores. In one case, following a mobile message advertising a special sale, Central Texas Harley-Davidson reported the best sales day in nine months.
Testimonials: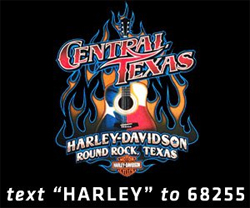 Ric Van Vleet, Events Coordinator for Central Texas Harley-Davidson
"We use text messages to inform our customers about any sales and events throughout the dealership. It is used to inform customers about where our Bike Night locations are as well as any other off-site company-sponsored events.

"The first time we used our text messaging to inform our customers about a sale, we had our best sales day in nine months. Every time we use our texts to inform customers about events or sales, our store traffic greatly increases "The mobile messaging plays a huge role for us. Due to Harley-Davidson's new marketing policies, there are many restrictions on advertising discounted prices. However, their policy does not apply to the use of text messages. Because of this, we are able to advertise any sales going on throughout the dealership.

"Being involved with 7 Media Group has helped us to realize the old ways of marketing and advertising are gone. In our market especially, the population of "tech savvy" customers is huge.

"The use of text messages and the internet are the way to go. We still occasionally use mail-outs, but it seems that using messaging creates a much larger impact. The benefits are able to be quantified as well. There is no doubt that the money being spent is definitely being recouped."
Matt Baker, Service Manager for Fort Thunder Harley-Davidson
"We use mobile alerts for info on events, specials surveys, and we also have an exclusive VIP mobile club
"Mobile alerts have well for us. One event to build our VIP mobile club was Ten Days of Christmas. You had to be part of the club to win a $100 gift card given away daily. That drove hundreds of people to our store.

"We advertise through many different types of media, and mobile alerts seem to show some of the most impact.

"We started off slow not really knowing much about it or if it would really work. After one 20-minute meeting with 7 Media Group, we got it and were using it all the time. About one month after the first meeting, I forgot how to use the survey function. I sent 7 Media a text and within 5 minutes, I was getting responses back from the survey. This is an awesome company."
Fort Thunder Harley-Davidson: http://www.fortthunderharleydavidson.com/
Central Texas Harley-Davidson: http://www.centraltexasharley.com/
About 7 Media Group
7 Media Group is equipped to completely manage your mobile alert solution. Our system is a full opt in/opt out format to easily provide two-way communication between you and your audience.

7 Media Group offers a robust platform that can accommodate virtually any SMS campaign requirement. We can help you create a mobile alert loyalty club so you can better communicate with your customers.